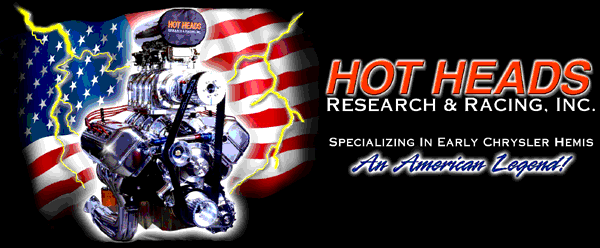 Hot Heads 2013 Show Schedule
NSRA Nat's South, Knoxville Tn. May 4-6
NHRA National Hot Rod Reunion, Bowling Green, Ky. June 13-15
We will be leaving on Tuesday, June 11th. for the HHR in Bowling Green & will be closed the remainder of the week.
Hope to see you there!
http://www.nhramuseum.org/apcm/templates/general.asp?articleid=676&zoneid=41&navsource=reunions
Chryslers @ Carlisle, Pa. July 12-14
NSRA Nat's, Louisville, Ky. August 1-4
NEW!
New England Hot Rod Reunion, Epping N.H. September 12-14
Thanks for helping us keep the Fire Power lit!
Bob Walker
This web site was last updated 20 May 2013
Contact Hot Heads
New Products
Ordering
Chrysler Parts
Dodge Parts
DeSoto Parts
Hemi Spec's
Hemi Photos
Hemi Links
Australian Distributor
Hemi Swap Meet
Site Map
Hot Heads Tech Talk, Early Hemi Q & A, Tips and Tricks
Your Early Chrysler Hemi Headquarters!

Hot Heads Research & Racing, Inc.
276 Walker's Hollow Trail
Lowgap, NC 27024
Phone: (336) 352-4866 Fax: (336) 352-3892
HOT HEADS Home